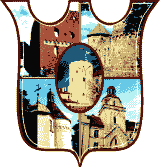 The book "Livonian Medieval Castles in Latvia: History, Architecture, Legends" included several parts (castles of Vidzeme, Kurzeme, Zemgale and Latgale regions)
is preparing for the publication.
All interested persons are invited to cooperation!
Any offers will be considered. Especially we are interested in historical illustrations and advertizers.
Do not miss the chance enter into the history!
Write on E-mail castles_ren@one.lv
or call by phone +371 6088135
---
Design principle of the book "Livonian Medieval Castles in Latvia: History, Architecture, Legends":
Photographs of the author, have visited each castle place personnaly

Ancient photographs or engravings

Planes for all castles


Emblems of the towns, regions or districts (modern and ancient)

Map with place of the castle marked

Model or reconstruction of the castle
---
Renata Rimsha
Birth date and birth-place: 26.10.1969, Riga, Latvia
Education: University Graduate, in 1994 has finished Architectural Faculty of the Riga Technical university, obtained a degree work on a theme "Dwelling of the person and an opportunity of its development" with an estimation "perfectly".
Speciality: The architect.
Employment: Worked as the architect in engineering firms, and also cooperated with a number of periodicals (the newspaper "Traveller", "Your Health", "Saturday", "The Book of Records of Latvia", magazine "All about tourism and rest", etc.), publishing materials on history and culture of Latvia. In 2002 was the judge of the first Latvian championship under the decision of crossword puzzles. Have delivered a number of lectures about history and architecture of Latvia in Woman's elucidative society
The basic awards and insignia: In 1986 has finished 17 Riga high school with a gold medal. Within study at school was the winner of city and republican Olympiads on the Fine Arts. The next years - the numerous winner of competitions on erudition and an outlook, spent by mass media. The Creative Grant of The Culture Capital Foundation of Latvia laureate, for developement this site (2003). At the same year web-site about medieval castles of Latvia was selected as the best among others hosted in Times.lv Network during competition "A star of Times.lv"
Hobbies: In 1996 it was personal exhibition of art on the subject of architectural imaginations, modelling of clothes, and also book's graphics has been organized. Among the basic interests and hobbies also computer graphics, a photo, travel across Latvia, history of arts and general history, reading of books, an astrology.
The marital status: Is married, children are not present.
---
This site created with
The Culture Capital Foundation of Latvia sponsorship
www.kkf.lv